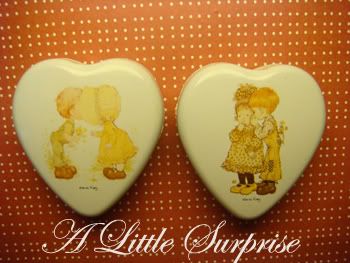 To create a bit of FUn, here is a little surprise for yourself or for your friend. These vintage tin boxes were made in Switzerland, and are signed on the front and authenticated in the back. QS imported the tin from USA.

Inside this tin, is a pair of mismatches earrings (pls dun ask me how the earrings inside looks like, coz its suppose to be a surprise). Some of the charms I used on these earrings are imported from USA too, they are all lovely creation. I will expose the creation inside ones they is a buyer for each tin.
Great for gifts or for yourself!
Selling Price: $25
Tin 1: Espy Got it!
Tin 2: Rachel got it!
(sorry babes, both tins are sold)
*will reveal the surprise tonight!*